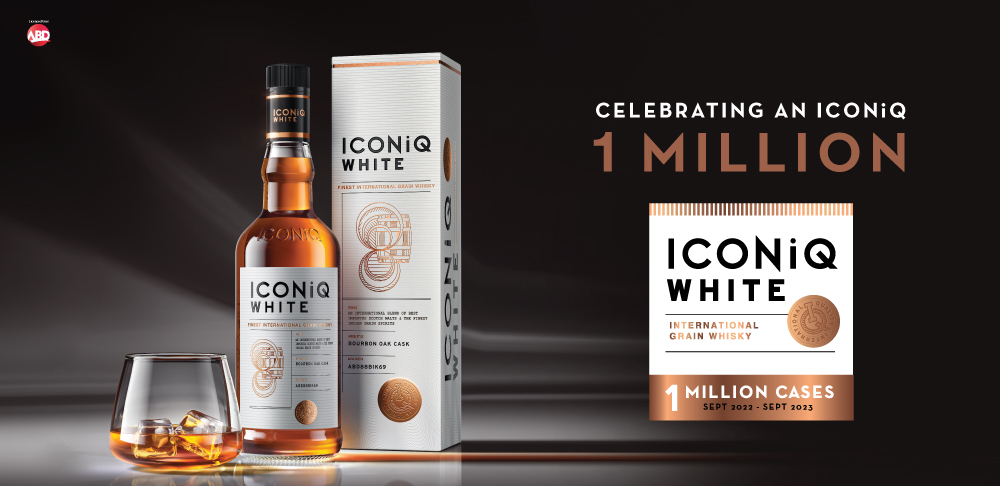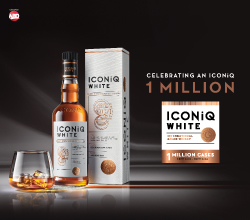 Oct 17, 2023
ICONiQ Whisky rockets to 1 million cases, a year from launch
Mumbai, 2nd October 2023:  Allied Blenders and Distillers (ABD) confirmed that it's recent launch of ICONiQ Whisky has soared past the 1 million cases milestone in September 2023, since launch in September 2022, despite being available so far in states of North and East India and Maharashtra and Telangana where it was launched in September 2023.
ICONiQ Whisky was launched state by state, in a planned, sequenced stagger, in most parts of East and North India from September 2022. It is a blend of imported Scotch malts aged in bourbon oak casks, with matured malts and Indian grain spirits.
Speaking on the ICONiQ 1 million milestone, Bikram Basu, Vice President- Marketing and Strategy at ABD said, "Right at the time of the ICONiQ launch we went on record to say that 'we are here with something very special and here to win.' I am confident that this is the start of many good things to come."
Within 5 years, ABD India has delivered 2 runaway successes with millionaire brands in key and competitive segments of the industry, first with Sterling Reserve Whisky at 5 million cases (2022) and ICONiQ Whisky.
Disclaimer: "Allied Blenders and Distillers Limited is proposing, subject to receipt of requisite approvals, market conditions and other considerations, an initial public offering of its equity shares and has filed a draft red herring prospectus dated June 27, 2022 ("DRHP") with the Securities and Exchange Board of India ("SEBI"). The DRHP is available on the website of SEBI at www.sebi.gov.in, and the website of the Book Running Lead Managers, ICICI Securities Limited at www.icicisecurities.com Axis Capital Limited at www.axiscapital.co.in, Equirus Capital Private Limited at https://www.equirus.com/, JM Financial Limited at www.jmfl.com and Kotak Mahindra Capital Company Limited at http://www.investmentbank.kotak.com/ and the websites of BSE Limited and National Stock Exchange of India Limited at www.bseindia.com and www.nseindia.com, respectively.
Investors should note that investment in equity shares involves a high degree of risk and for details refer to the Red Herring Prospectus, including the section titled "Risk Factors" of the Red Herring Prospectus when available. Potential investors should not rely on the DRHP for any investment decision.
The Equity Shares have not been and will not be registered under the U.S. Securities Act of 1933 (the "U.S. Securities Act") or any state securities laws in the United States, and unless so registered, and may not be offered or sold within the United States, except pursuant to an exemption from, or in a transaction not subject to, the registration requirements of the U.S. Securities Act and applicable U.S. state securities laws. Accordingly, the Equity Shares are being offered and sold outside the United States in 'offshore transactions' in reliance on Regulation S and the applicable laws of each jurisdictions where such offers and sales are made. There will be no public offering of the Equity Shares in the United States.