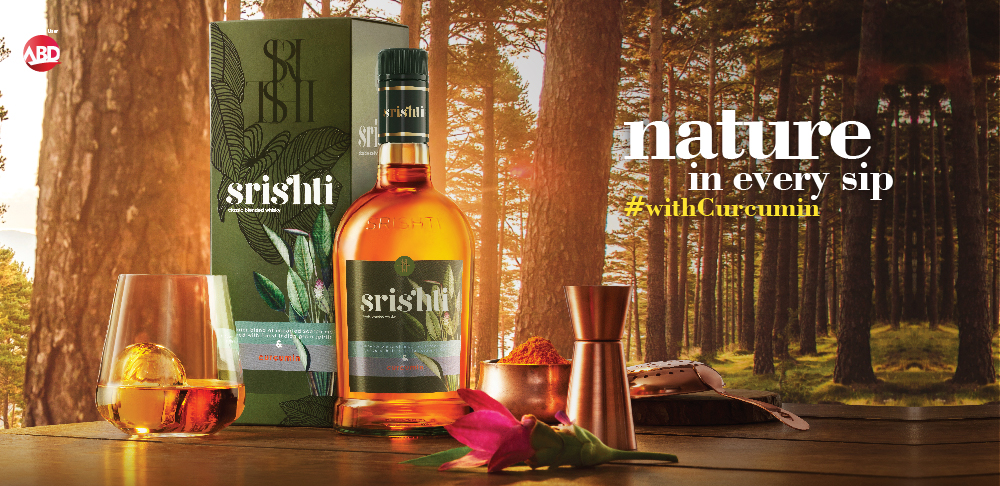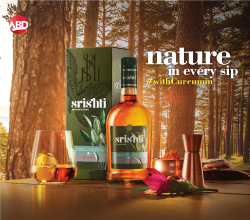 Oct 03, 2022
ABD launches two innovative products, Srishti with curcumin and Sterling Reserve B7 Whisky Cola
Mumbai, 03 October 2022 – Allied Blenders and Distillers (ABD) Ltd., India's largest domestic Spirits company, fired consumer imagination with the launch of two new whiskies with a twist Srishti Premium Whisky and Sterling Reserve B7 Whisky Cola Mix.
Srishti Premium Whisky is a blend of rare Scotch Malts paired with select Indian grain spirits and its unique expression is rounded off with curcumin. Interestingly, the infusion has no change in the sensorial; that is in taste, aroma or colour. Research across categories shows that Curcumin has anti-inflammatory properties and the ability to increase antioxidants that the body produces, though the company does not make any claim of this with the product.
Sterling Reserve B7 Whisky Cola Mix is the award-winning whisky blend, infused with cola to add a zing to every drinking occasion. The whisky cola mix retains the colour of whisky in the bottle, in a glass with water, soda or when consumed as a shot.
Speaking on the occasion, Shekhar Ramamurthy, Executive Deputy Chairman, ABD said "At ABD, we are living our core value of 'Think Differently'. Srishti and Sterling Reserve B7 Whisky Cola are testaments to the disruptive innovation mindset that we nurture and thrive on. Both products are rooted in consumer insight and are the first of their kind in the Indian market."
Talking about the launch, Bikram Basu - Chief Strategy, Marketing, Business Development Officer, said "Srishti is truly disruptive. From its infusion with curcumin, naming of the product, to its launch in the Metaverse today before its market launch. Srishti and has been in the making for a few years and gives consumers a great whisky with an interesting natural ingredient. Sterling Reserve B7 Whisky Cola is aimed at young adults who prefer whisky with a flavour, and cola is a global winner".
Commenting on the launch, Arun Barik, Executive Director, ABD, said "Crafting these new products have involved the experience of a blender and the use of technology, years of research and most importantly, loads of passion of the teams involved. We relished the challenge of delivering these first-of-their-kind products and am confident that consumers will love them too."
Speaking on the launch of Srishti, Sohini Pani, Founder and Managing Director – River, said "We took inspiration from nature for crafting the brand packaging, visual identity and communication idea for Srishti. This brand is a celebration of nature and authenticity.  Srishti will appeal to those who believe in products that are made of good."
In continuing with its trend of offering unique experiences to consumers, Srishti Premium Blended Whisky has been first launched in the Metaverse at the 'ABD MetaBar' https://abdmetabar.com/ and will be subsequently launched in key markets soon. Sterling Reserve B7 Whisky Cola has been recently launched in Assam and will extend nationally this season. Both the brands are available in three pack sizes i.e., 750 ml, 350 ml and 180 ml.
About ABD:
Allied Blenders and Distillers (ABD) is the largest Indian-owned spirits company and the 3rd largest IMFL company in the country. Its flagship brand, Officer's Choice is one of the highest selling whiskies in the world in terms of volume and is one of the largest spirits brands exported out of India. Sterling Reserve Whisky, its premium offering, has met with record-beating success. ABD is a multi-brand company that produces and supplies alcoholic beverages with presence in the whisky, brandy, rum, and vodka categories that are sold in over 22 countries. Today, its network includes 9 owned bottling units, 1 distilling unit and 20 non-owned manufacturing units.
For more details, contact:
Hemchandra Shetty: Concept PR | 9821412356