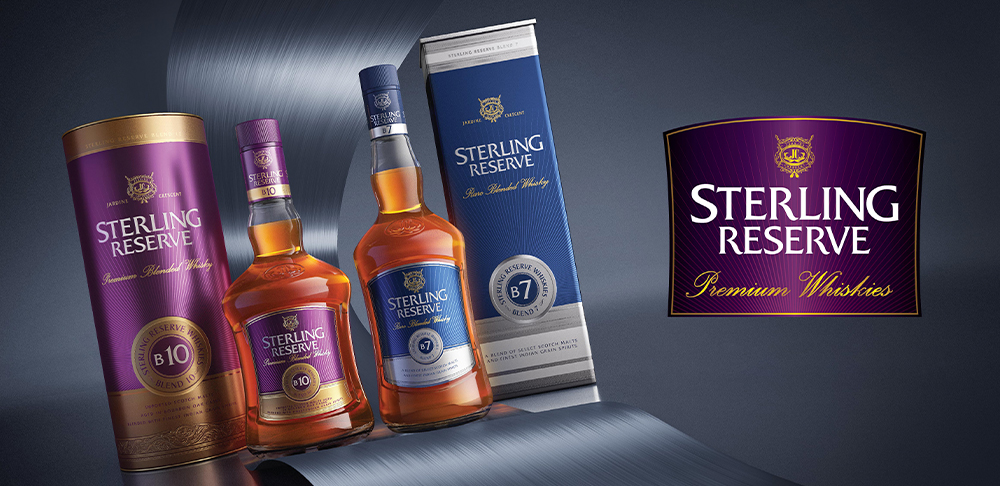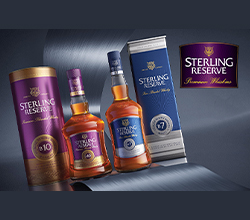 Jun 16, 2019
ABD expands brand portfolio, launches Sterling Reserve range of premium whiskies
Allied Blenders and Distillers Pvt. Ltd (ABD), India's third-largest and fastest-growing spirits company, announced the launch of its new range of premium whiskies, Sterling Reserve in Ahmednagar. The company will roll out two variants – Sterling Reserve B10 in the premium whisky segment, and Sterling Reserve B7 in the semi-premium whisky segment.
Sterling Reserve B10 is an impeccable blend of imported Scotch malts and the finest Indian grain spirits. The Scotch malts are from different barrel origin bourbon oak casks. The blend is chill-filtered to perfect balance with smooth finish and ten unique tasting notes. The highlight of the packaging is the canisters on all sizes which add to the premium look and feel of the brand.
Sterling Reserve B7 is crafted to perfection with Scotch malts from different barrel origin and carefully selected Indian grain spirits with seven distinct tasting notes. The soft toasted touch of charred oak gives a luxurious texture and a smooth, well-rounded finish. The quarts (750ml) pack of Sterling Reserve B7 is packaged in a specially designed monocarton, previously not offered at this price point. 
Sterling Reserve is now available in 18 states across the country. The brand is also now being exported to a few international markets.
Speaking on the occasion, Deepak Roy, Executive Vice Chairman, Allied Blenders and Distillers said, "The alcobev industry in India is witnessing a trend of premiumisation for many years now. The launch of Sterling Reserve range of premium whiskies is another superior offering from ABD in the premium whisky and semi-premium whisky segments. It has been launched after rigorous consumer testing for both its packaging as well as its blends. Since its launch, Sterling Reserve has seen a phenomenal response from the market with strong acceptance coming in for both blends.  The brand enjoys the rare distinction of having sold more than 1.7 million cases within the first year of its launch. We are sure that the discerning consumers of Ahmednagar will appreciate the premium packaging and love the superior blends of Sterling Reserve B10 and Sterling Reserve B7."
Commenting on the launch, Paramjit Singh Gill, President & CEO, Allied Blenders and Distillers said, "The brand choices being made today by the Indian consumers are very informed. They are paying a premium for quality-assured brands. With the introduction of the Sterling Reserve range of premium whiskies, we aim to delight and win consumers with two premium offerings that are superior and provide much higher value. Sterling Reserve B10 and Sterling Reserve B7 redefine consumer expectations with their quality blends and tangibly superior packaging in the expanding Indian semi-premium and premium whisky segments."
Both Sterling Reserve B10 and Sterling Reserve B7 will be available in 750ml, 375ml and 180ml pack sizes across Ahmednagar.