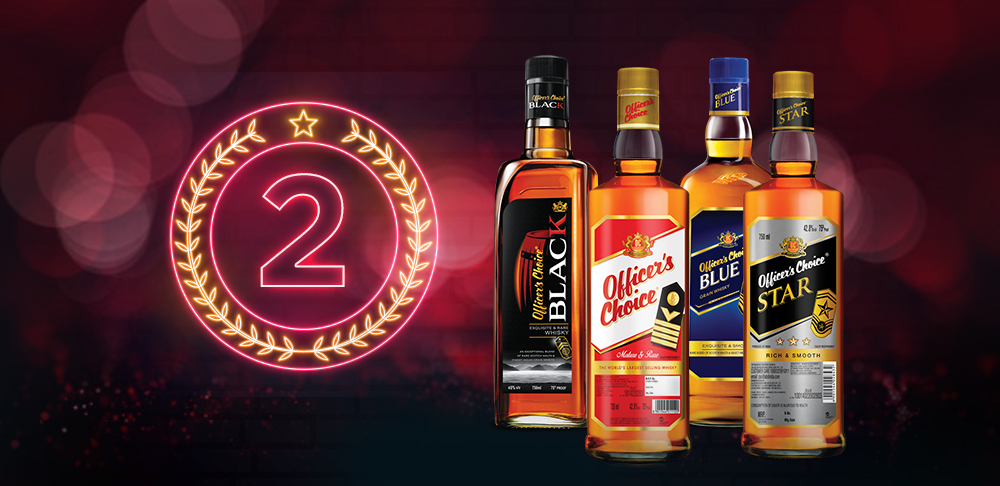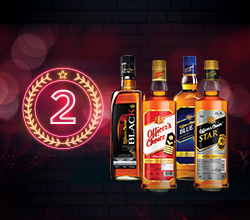 Jul 14, 2017
Indian Whiskey Officer's Choice Ranks No. 2 in World's 100 Top-selling Brands
Country's alcohol brands are reaching new heights after gaining tremendous recognition on the world platform. Indian Whiskey brand, Officer's Choice has notched up the No. 2 rank in world's 100 top-selling brands. Along with Officer's Choice, two other Indian labels find a place in first ten brands of the IWSR Top 100 -McDowell's and Imperial Blue. It is seen as a great accomplishment for the local spirits brands to dominate in the world despite facing tough times in 2016 with increasing prohibition and overall slowdown. Meanwhile, South Korean Soju brand Jinro maintained its stronghold grip as the World No. 1.
Officer's Choice from Allied Blenders & Distillers with 32.3 million nine-litre cases in 2016 came second in the list of largest selling alcoholic beverage brands. This is the fourth consecutive year when the Indian brand has maintained their second spot. In 2015, the whiskey label had sold over 34 million nine-litre cases, hence seeing a decline of 5.1 but are only behind market leaders South Korea's Soju-Jinro label. Soju brand Jinro selling over well over 65 million nine-litre cases in 2016 have once again they retained the numero uno rankings.
Speaking about the success of Officer's Choice, parent company ABD released a statement, "Our flagship brand Officer's Choice whisky remains the world's largest selling whisky for the fourth year in a row and also the second largest spirits brand globally, selling 32.3 million cases, as per the latest International Wine & Spirits Research (IWSR) ranking." Officer's Choice whisky label was launched in 1988 by Allied Blenders Distillers.
The two other local spirits label, McDowell's and Imperial Blue are ranked sixth and tenth respectively. Diageo-owned McDowell's sold 25.6 million cases Pernod Ricard-owned Imperial Blue sold 18 million cases. McDowell's have seen a decline of 2.3 in the sale figures compared to 2015 while Imperial Blue has recorded a growth of 2.9 compared to their 2015 performance. IWSR has been a trusted and largest source of data and analytics on the global alcohol-beverage market covering brand performance in 155 countries for the past four decades.