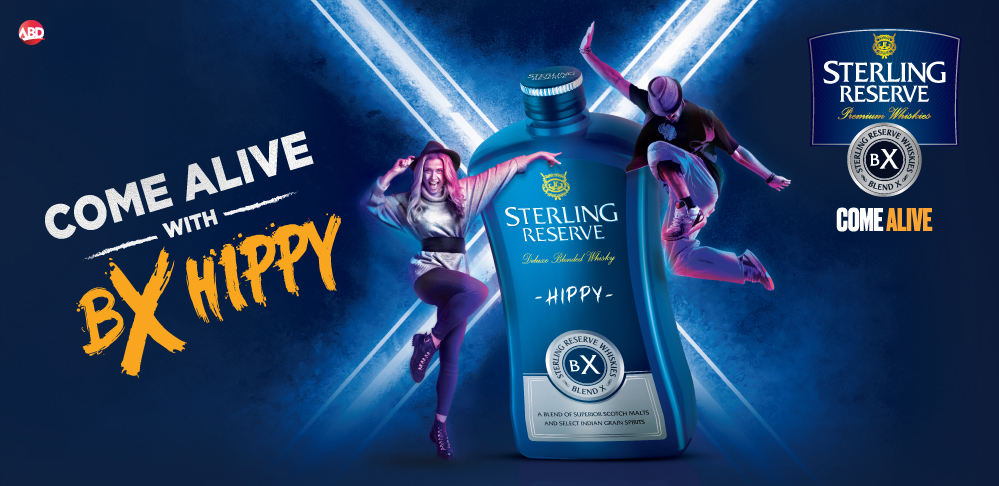 Nov 08, 2023
When Business Meets Cool: Quarter Goes 'Hippy'
Allied Blenders and Distillers Limited ("ABD"), is boosting its play in the Prestige and Above segments in whisky with unique offerings built on core consumer insights. In its quest for this objective, ABD has launched a 180ML pack in 'Hippy'. The Hippy is ABD's reimagination of the 180ml SKU, popularly known as the 'quarter'.
The Hippy is a contemporary take on the 'quarter'. It is currently available in Maharashtra, West Bengal, Uttar Pradesh, Assam, Daman and Tripura.
Alok Gupta, Managing Director, ABD said, "Constantly Innovating is one of ABD's core values. The Hippy is a great example of this core value brought alive on the back of consumer-centric thinking. It is an offering that allows for widening of the occasions where consumers can engage with our brand on account of its style quotient and mobile form factor."
Bikram Basu, Chief Strategy and Marketing Officer, ABD remarked, "The Hippy allows consumers to break free of inhibitions and flaunt their Sterling Reserve BX Whisky."
The Company is evaluating the extension of the Hippy packaging format to other brands in its portfolio.
Disclaimer: "Allied Blenders and Distillers Limited is proposing, subject to receipt of requisite approvals, market conditions and other considerations, an initial public offering of its equity shares and has filed a draft red herring prospectus dated June 27, 2022 ("DRHP") with the Securities and Exchange Board of India ("SEBI"). The DRHP is available on the website of SEBI at www.sebi.gov.in, and the website of the Book Running Lead Managers, ICICI Securities Limited at www.icicisecurities.com Axis Capital Limited at www.axiscapital.co.in, Equirus Capital Private Limited at https://www.equirus.com/, JM Financial Limited at www.jmfl.com and Kotak Mahindra Capital Company Limited at http://www.investmentbank.kotak.com/ and the websites of BSE Limited and National Stock Exchange of India Limited at www.bseindia.com and www.nseindia.com, respectively. Investors should note that investment in equity shares involves a high degree of risk and for details refer to the Red Herring Prospectus, including the section titled "Risk Factors" of the Red Herring Prospectus when available. Potential investors should not rely on the DRHP for any investment decision."
The Equity Shares have not been and will not be registered under the U.S. Securities Act of 1933 (the "U.S. Securities Act") or any state securities laws in the United States, and unless so registered, and may not be offered or sold within the United States, except pursuant to an exemption from, or in a transaction not subject to, the registration requirements of the U.S. Securities Act and applicable U.S. state securities laws. Accordingly, the Equity Shares are being offered and sold outside the United States in 'offshore transactions' in reliance on Regulation S and the applicable laws of each jurisdictions where such offers and sales are made. There will be no public offering of the Equity Shares in the United States.