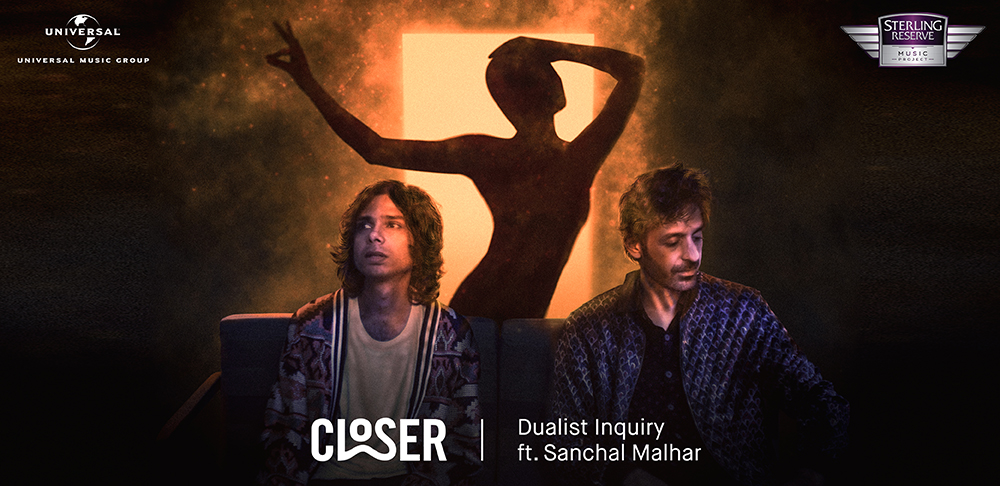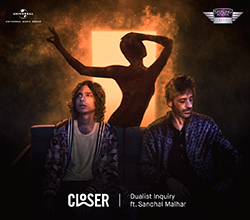 Nov 21, 2020
Sahej Bakshi aka Dualist Inquiry releases his latest track 'Closer' feat. Sanchal Malhar
Featuring the popular vocalist-guitarist Sanchal Malhar, the song captures the essence of longing for true connection. He will be seen in the video along with the multitalented yoga teacher, model and actress Sharanya Narayanan.
The song evokes the feeling of wanting to feel closely connected with someone, but not knowing how to. It speaks of the yearning for togetherness with a person who feels far away in spite of their physical proximity. In this audiovisual creation, the singer (Sanchal Malhar) is seen with a silhouetted character representing the woman of Sanchal's dreams. Using artfully executed VFX, Sahej unfurls the story of these two characters in a visually novel depiction of the classic two-person love story. The surreal video portrays the various dimensions of the relationship between Sanchal Malhar and Sharanya Narayanan – making the audience wonder if she is an individual or a representation of a number of individuals, if she exists or is a figment of his imagination?
Talking about the launch of 'Closer,' Dualist Inquiry said, "This project was about bringing the visual story of "Closer" to life. There was so much raw emotion to work with from the start, as the song is an immensely personal reflection based on real life experiences. We knew that the video has to depict a love story, but we wanted to do it in a visually interesting way. That's what led to the idea of Sharanya performing her role in a green chroma-key suit which opened limitless possibilities in the post-production process."
"I consider myself a student for life, I love picking up more skills and putting them to use in a project such as this one. For the last 4-5 years I've found myself getting absorbed in the world of visual art and filmmaking which dovetailed perfectly with my music. Working with Sanchal is always such an inspiring experience - he has this ability to create the most unique and memorable compositions that evoke a scenery that feels so immersive. I still remember the day when I heard him singing an unplugged set at a cafe in Delhi. I knew right then that we had to write some music together." he added.
Speaking on 'Closer', Sanchal Malhar said, "It is always a wonderful experience to work with Dualist Inquiry. He really knows what he wants and is lightning fast in his process. Singing a song for this video and watching the amazingly crafted ideas come to life on screen was an experience of a lifetime."
Anupam Bokey, Chief Marketing Officer - Allied Blenders and Distillers, said, "Sterling Reserve Music Project has been a runaway success for the brand building a loyal follower base of over 100,000 subscribers that actively engages with us across social media. As a brand, Sterling Reserve has always sought to push boundaries and with SRMP we have been able to build strong imagery for the brand in this regard. 'Closer' is a clear reflection of this ethos, where both the music and the video are novel and exciting. Our releases on SRMP have been carefully planned from a topical lens leading to stronger traction online with over 11.5 million views on the channel in the last 5 months alone. We are keen to keep producing great content on the brand and look forward to feedback on #SterlingReserveMusicProject to become bigger, bolder and better!  "
Devraj Sanyal, Managing Director and CEO, Universal Music and EMI Music, India and South Asia, said, "I've known Sahej's brand of music as Dualist Inquiry from his debut EP "Dualism" in 2010 to his latest album "life forms" in 2019 and been a huge fan personally. His latest single with rock singer Sanchal Malhar "Closer" is that exact type of sound that makes him who he is. I'm super excited to have this epic tune release on our platform and can't wait for everyone to hear it."