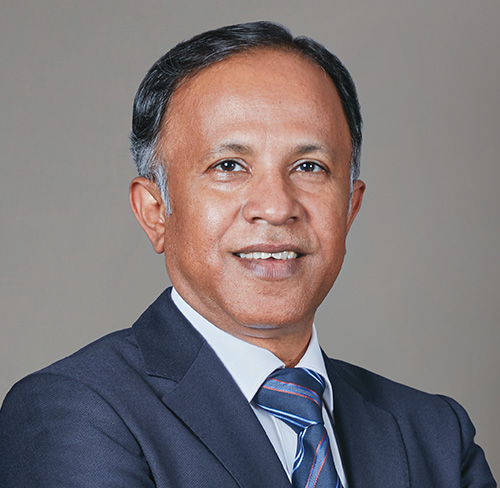 Arun Barik
Executive Director
Arun Barik possess over 32 years of work experience in the alcobev industry, having worked with names like Shaw & Wallace and Co, BDA Ltd, Seagram – Pernod Ricard India and Mason and Summers Alcobev Pvt. Ltd.
Arun joined Shaw & Wallace and Co's Liquor Division II as a trainee Blender in 1988, and rose to head the all India Assignment of Blending, Quality, Project and Product Development. Over a span of 5 years he worked on brands such as Officers Choice, Thousand Guineas, Calypso Rum, Class Whisky, and Mc Shaw Brandy.
He spent a year at BDA Ltd. before moving on to Seagram – Pernod Ricard India for a period of 9 years.
Part of the Seagram founding team, Arun joined in 1994 as a Manufacturing Manager and set up the first manufacturing outlet at Duarala. He worked on the international product development of Blenders Pride, Royal Stag, Oaken Glow and Imperial Blue, alongside the local launches of international brands like Hundred Piper, Passport, Something Special Scotch and Seagram Extra Dry Gin.
As a second project, he worked towards establishing an integrated state-of-the-art Grain Distillery Blending and Bottling R&D Centre in 1998. He additionally introduced integrated risk management by ensuring that the project adhered to ISO 9001, ISO 14001, and OSHAS 18000 and HACCP standards in collaboration with Zurich Risk Engineering, to get the project certified under 4 standards.
He was also part of the founding team and head of manufacturing at Mason and Summers Alcobev Pvt. Ltd., where he was instrumental to international collaboration for the introduction of the first ever locally bottled Single Malt – Glen Drummond in three variants.
Arun joined ABD in February 2009 and presently serves as the Head Manufacturing and Technical. He is a master blender who is responsible for curation and refinement of product blends, while overlooking the entire manufacturing operation as well as ensuring quality adherence and control across all units.
He possesses a B.Sc. Degree from Utkal University.